Division of Plastic Surgery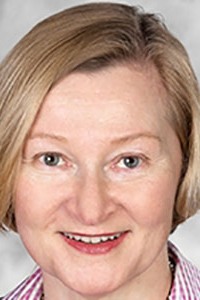 Loree Kalliainen, MD
Division Chief of Hand Surgery, Associate Professor of Surgery
MD: University of Michigan
Residency: Plastic Surgery, University of Michigan
Fellowship:  Hand Surgery, University of Virginia
Clinical Interests:
Hand surgery
Peripheral nerve surgery
Post-surgical neuropathic pain
Targeted muscle reinnervation
Dr. Loree Kalliainen graduated from medical school and trained in Plastic Surgery at the University of Michigan.  Her hand surgery training was with the combined Plastic and Orthopedic Surgery hand fellowship at the University of Virginia.  In Minnesota, she obtained a Master's degree in Philosophy, focusing on ethics and epistemology. 
She has worked at The Ohio State University, Regions Hospital in St. Paul Minnesota with an affiliation with the University of Minnesota, and at the University of North Carolina.  On four occasions, she worked in New Zealand as a locum plastic surgeon and participatted in the residency training program.  She moved to Providence in early 2019 and has recently been appointed as an Associate Professor at Brown University in the Department of Surgery. 
She has been involved in medical education for her entire career and directed an accredited Hand Fellowship for 6 years while in Minnesota.  She is offering a 4th year medical student elective at Brown called "Hand Surgery for the Non-Surgeon" and enjoys mentoring students of all levels. She is a mentor for the international medical school elective to New Zealand.  She received teaching awards while at UNC and has been recognized by her colleagues as a "Top Doctor" and "Top Doctor for Women" on multiple occasions in Minnesota.   
Her leadership roles include being a Director of the American Board of Plastic Surgery and a board member on the American Association of Hand Surgery.  She has been active in multiple national organizations, chairing committees ranging from Health Policy to Diversity.  She served as Chief of Staff at Regions Hospital and has been on numerous hospital committees, primarily related to quality and safety.