Division of Plastic Surgery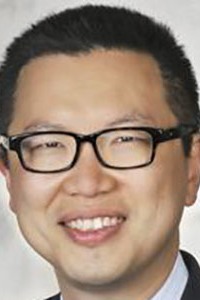 Albert S. Woo, MD
Division Chief of Pediatric Plastic Surgery, Associate Professor of Surgery
MD: Brown University
Residency: Plastic Surgery, Brown University
Fellowship: Craniofacial Surgery, University of Washington
Clinical Interests:
Craniosynostosis surgery including endoscopic
Cleft lip/palate repair
Facial trauma
Pediatric plastic surgery
3D printing
Aesthetic Surgery
Reconstructive surgery
Dr. Albert Woo is a board-certified plastic and reconstructive surgeon who has over a decade of experience in the field of craniofacial surgery.  He earned his medical degree at The Warren Alpert Medical School of Brown University and completed his residency in plastic surgery at Brown University/Rhode Island Hospital.  He also completed a fellowship in craniofacial surgery at the University of Washington School of Medicine in Seattle.  His practice focuses on the reconstruction of adults and children with facial and skull deformities secondary to trauma, cancer, or congenital abnormalities.  He is the Divisional Director of Pediatric Plastic Surgery for the Department of Plastic Surgery at Rhode Island Hospital and Director of the Cleft and Craniofacial Center at Hasbro Children's Hospital.  Dr. Woo is an Associate Professor at The Warren Alpert Medical School of Brown University.
Dr. Woo's clinical interests include the surgical treatment of patients with complex facial deformities, craniosynostosis, craniofacial abnormalities, and cleft deformities. In particular, he is a nationally regarded expert in Endoscopic Craniosynostosis Surgery, having performed over 100 such procedures over his career, with numerous papers and national presentations on the subject.  He is a strong advocate of the multidisciplinary team and works very closely with his neurosurgery colleagues to provide the best and safest possible care for patients with craniosynostosis.  He is also recognized for having developed a new surgical technique for cleft palate repair and a nationally recognized expert in post-traumatic facial reconstruction. 
Dr. Woo is the director of the Lifespan 3D Printing Laboratory, which focuses on the use of 3D printing to improve current medical practices.
Dr. Woo currently is a member of the American College of Surgeons, the American Society of Maxillofacial Surgeons, the American Cleft Palate-Craniofacial Association, the American Associate of Plastic Surgeons, and the American Society of Plastic Surgeons. He is the recipient of numerous awards, including recognition by Best Doctors in America and Castle Connolly's Top Doctors.