Division of Plastic Surgery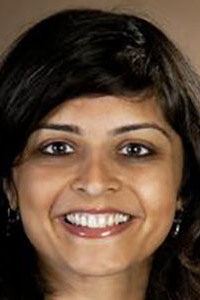 Reena Bhatt, MD
Associate Professor of Surgery, Medical Student Clerkship Director
MD: Drexel University College of Medicine
Residency: Plastic Surgery, Brown University
Fellowship: Hand and Microsurgery, Beth Israel Deaconess Hospital, Childrens Hospital of Boston, and Shriners Childrens Hospital of Harvard University
Clinical Interests:
Peripheral nerve surgery
Complex injuries of the upper extremity
Congenital disorders of the hand and foot
Microsurgery including extremity flaps
Degenerative conditions of the wrist
Targeted muscle reinnervation
Pediatric Plastic Surgery
General reconstructive plastic surgery
Reconstructive surgery for cancer
Dr. Reena Bhatt is a board-certified plastic and reconstructive surgeon with experience in the fields of Plastic Surgery, Hand Surgery and Micro/Peripheral Nerve Surgery and Cancer Reconstruction. She is currently an Assistant Clinical Professor of Surgery of Brown University.
She earned her medical degree from Drexel University College of Medicine and completed her residency in Plastic Surgery at Brown.  She pursued a fellowship in Hand and Microsurgery (combined Plastic and Orthopedics) at Beth Israel Deaconess Medical Center, Boston Childrens Hospital, and Shriners Childrens Hospital of Harvard University.
Her prior Biomedical Engineering training and diverse interests have led to the pursuit of varied clinical and research focuses including congenital hand, nerve injury biology and outcomes, bone substitutes, and clinical applications of 3D printing. 
Dr. Bhatt is the medical student clerkship director and specialty advisor for Plastic Surgery. She is very active in multiple national organizations and is currently a member of the American Society for Plastic Surgery (ASPS), American Society for Surgery of the Hand (ASSH), American Association for Hand Surgery (AAHS).  She continues to serve as the President of the Rhode Island Medical Women's Association (RIMWA), an organization that seeks to recognize the special needs of women in medicine and female patients.  She was the recipient of the Dean's Teaching awards and Top Doctor from Rhode Island Monthly.